[FEATURED LOT] SHAWOOD is excited to offer our first brand new homes in Marsden Park since 2021. These 4 bedroom, 2 bathroom, 2 car homes are set on north-facing lots and are perfect for family-friendly living.
Fixed price, all inclusive package
Receive a repeat purchase reward on your subsequent SHAWOOD property
Sitting on landscaped, north-facing lots.
Currently under construction, due to be completed in October.
Located in prime position in Marsden Park, within masterplan community of Elara, a part of Sydney's emerging north-west.
Lot 6414, Abell Road - 404sqm, 4 bedroom, 2 bathroom, 2 car, premium inclusions. Enquire for pricing
Lot 6418, Abell Road - 329sqm, 4 bedroom, 2 bathroom, 2 car, a two storey, spacious home. Enquire for pricing.
Striking four-bedroom SHAWOOD homes.
Idyically positioned in family-friendly community of Elara
SHAWOOD design low maintenance, energy efficient homes, that are built to last.
SHAWOOD homes use a post and beam construction method that ensures our homes are incredibly strong, accurately assembled, and structurally sound.
SHAWOOD pre-engineers all structural framing in our own Australian factory.
SHAWOOD homes feature an exterior facade material that sheds dust and grime daily. This coating is not only low-maintenance but also fire-resistant up to 840 degrees.
Premium Fisher & Paykel or Miele appliances, including integrated fridge, dishwasher, double ovens, combination microwave oven and induction cooktop
Caesarstone benchtops throughout, waterfall edge to kitchen island bench
Expansive open-plan kitchen, dining and living areas integrate seamlessly with the outdoors
Actron Air ducted air conditioning with active 4 zones, LED downlights, smartphone connectivity
High-performance glazing, In-slab rainwater storage system, Colorbond roof
SHAWOOD, is a part of Sekisui House, and has built over 750 homes in Australia and over 85,000 homes globally.
Award winning architecturally designed homes.
Japanese-designed homes designed for energy efficiency.
Visit our display home in Marsden Park.
This information is estimated by the OpenLot research team. Let us know here to provide up-to-date information about this development.
---
House & Land Pricing & Availabilities
---
Updates for SHAWOOD at Elara - Marsden Park
---
Location & Map for SHAWOOD at Elara - Marsden Park
---
Vacancy Rate in Marsden Park NSW 2765
View full vacancy rate history in Marsden Park NSW 2765 via SQM Research.
---
Schools near SHAWOOD at Elara - Marsden Park
---
Suburb Planning Review in Marsden Park NSW 2765
Marsden Park is approximately 1,380ha within the Blacktown City Council forming part of the Greater Western Sydney region in New South Wales, located 49 kilometres north-west of the Sydney central business district. The southern portion of the suburb is primarily made up of general industry, with a large central rural area and rural residential properties found in the northeast, increased density with new residential subdivisions occurring to the north of the suburb. The suburb does not have a business district and is located on the urban fringe of surrounding residential areas.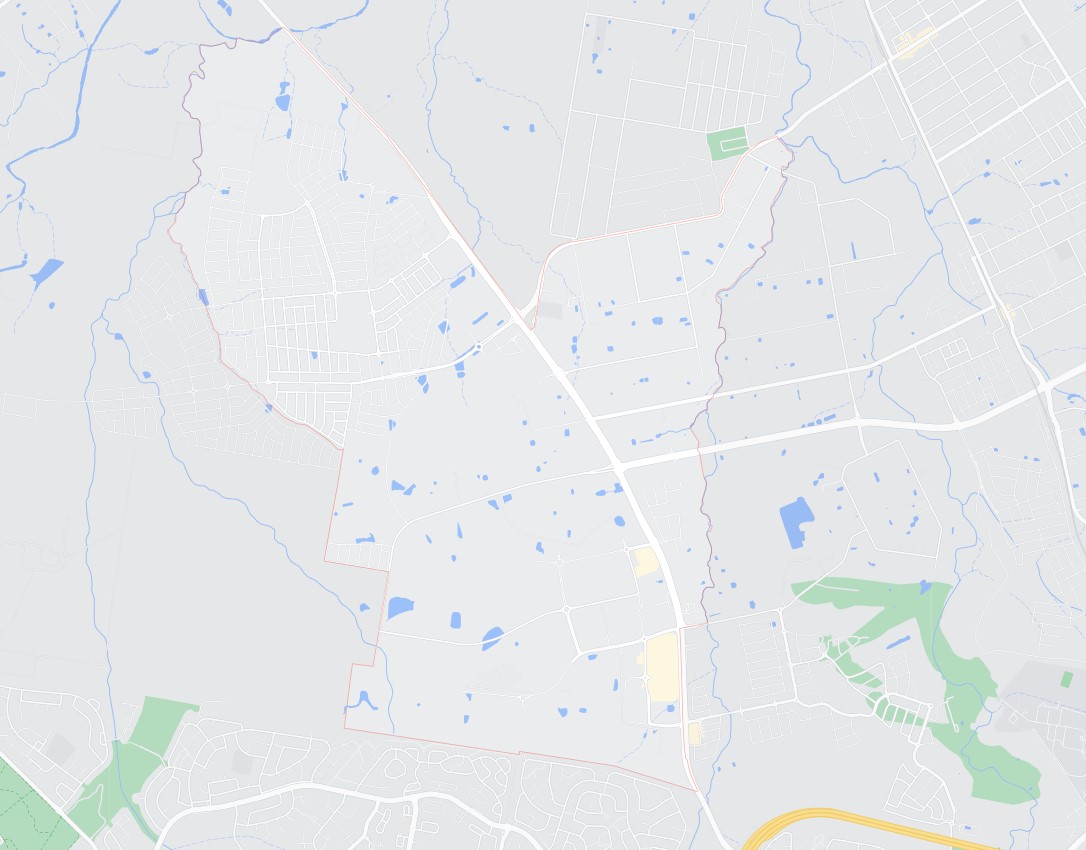 The suburb boundary is located along Richmond Road and Garfield Road West to the north, the residential fringe of Hassall Grove, Bidwill ad Shalvey to the south. Bells Creek and Richmond Road provide the suburb boundary to the east, with property boundaries and meandering a dry river bed from South Creek to the west.
Richmond Road runs through the east of the suburb and Abell Road runs through the middle of the suburb connecting to the Garfield Road West intersection. High voltage transmission lines run through the middle of Marsden Park from north to south. South Street and Garfield Road provide additional vehicle access to the surrounding suburbs in the east.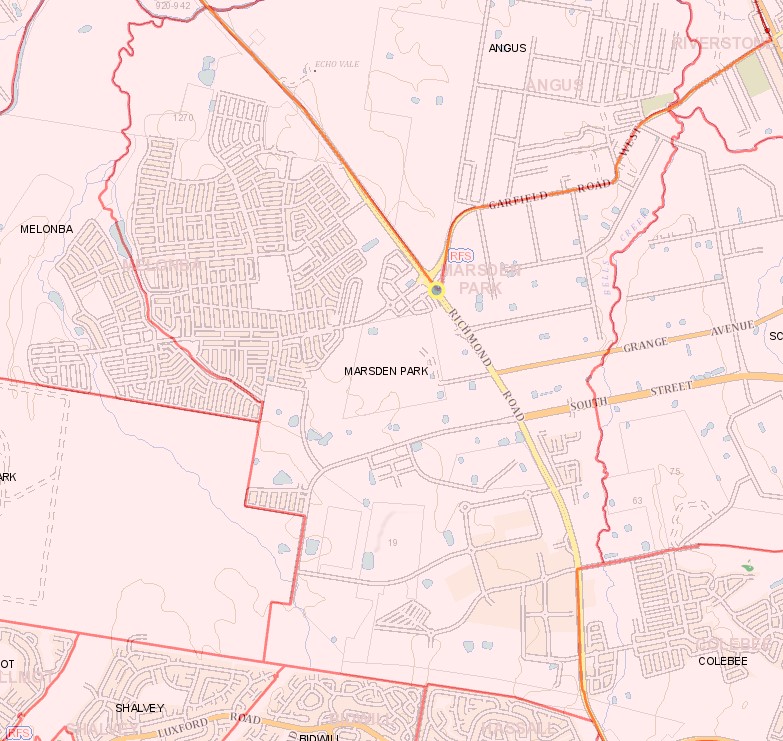 North West Priority Growth Area
Sydney's North West will form part of the new approach to planning in NSW, following a review by the Department of Planning Industry and Environment in partnership with the Greater Sydney Commission and Government Architect. The decision was made to deliver 51 growth precincts, with the state government able to target areas and local councils empowered to get the correct planning for their community. The precinct planning will occur in four different pathways, being:
State-led strategic planning

Collaborative planning between the State and councils

State-led rezoning

Council-led rezoning
Marsden Park forms part of the North West Growth Area and will proceed under the State-led and council-led rezoning methods with the division of the large suburb. The state-led rezoning will Implement planning frameworks on behalf of the State, in collaboration with councils and community framework that support them, while the council-led rezoning is completed by the council in consultation with the community.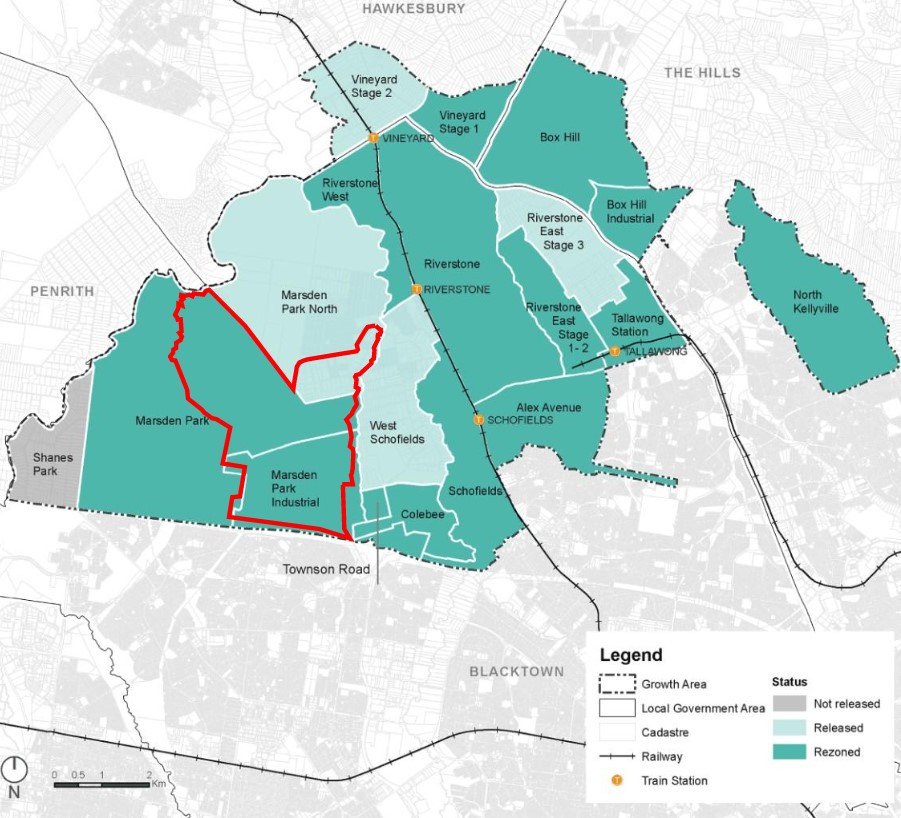 The NSW state government in collaboration with Blacktown City Council prepared a Growth Centres Precinct Development Control Plan (DCP) that was adopted by the Deputy Director General Strategies and Land Release (or delegate) of the Department of Planning on 14 May 2010 and came into force on 19 May 2010. After community consultation, the Marsden Park Precinct was adopted 4 October 2013, with further amendments made in July 2016.
The DCP was prepared to provide additional guidance to developers on how development is to occur in the Precinct and considerations to undertake development in Marsden Park. The Council's statutory development assessment will refer to the DCP and in conjunction with the Growth Centres SEPP.
As part of this planning Marden Park was broken into 3 new precincts:
Marsden Park (reduction in size)

Marsden Park North

Marsden Park Industrial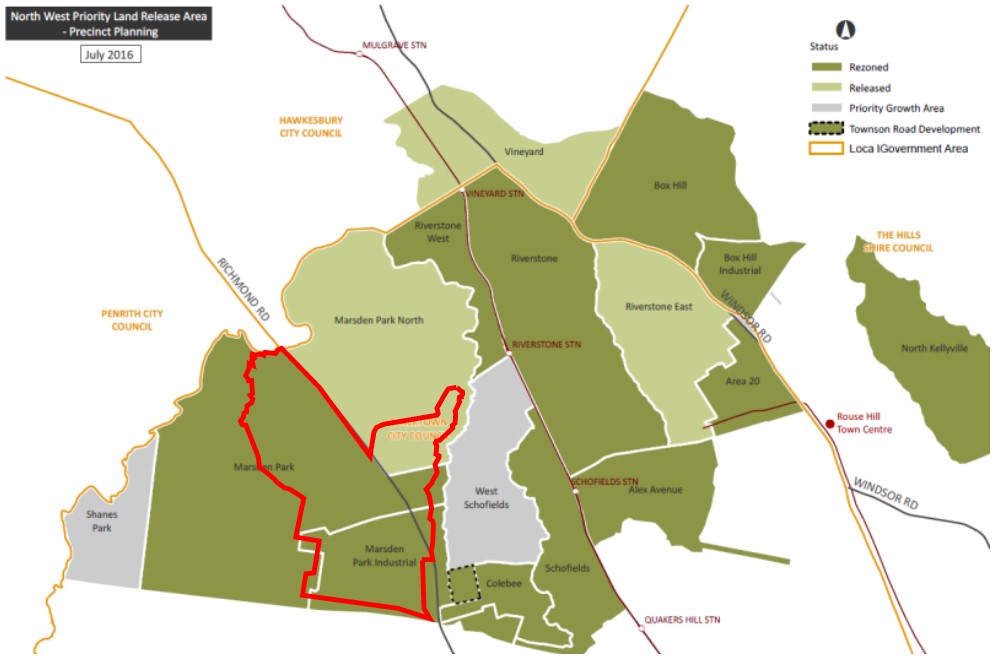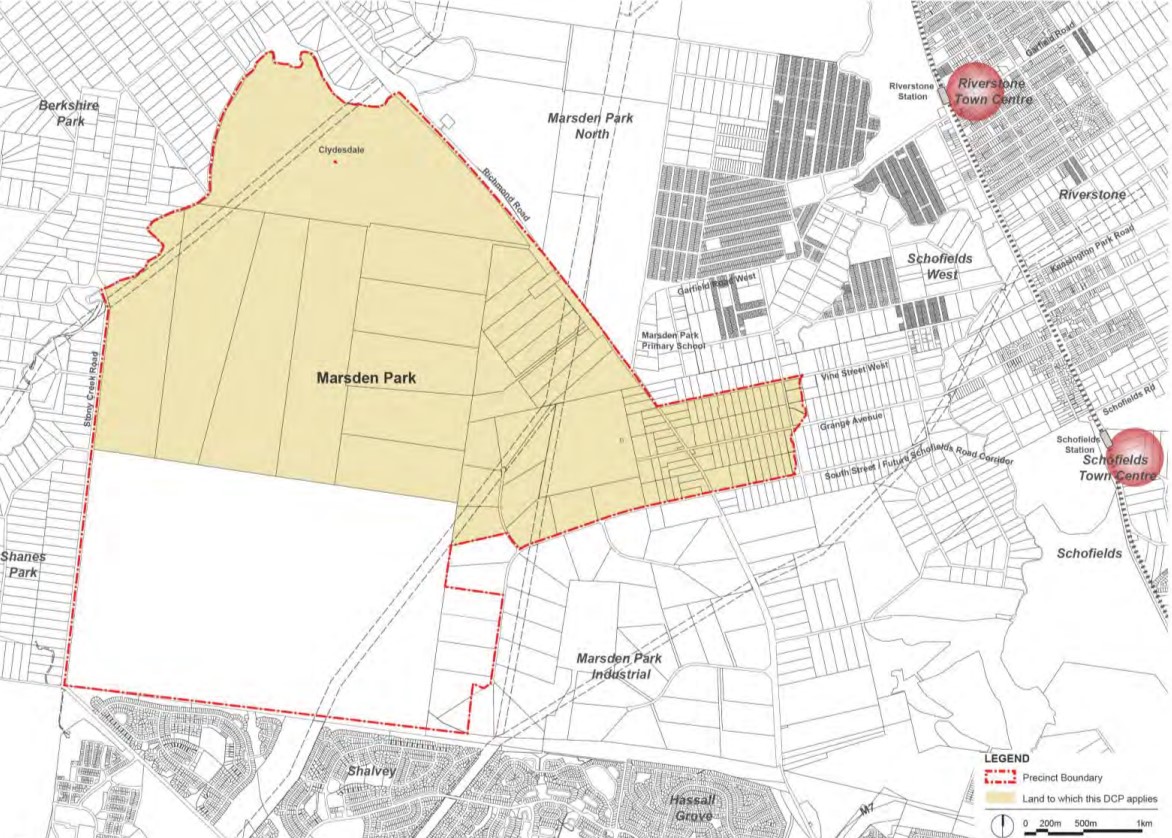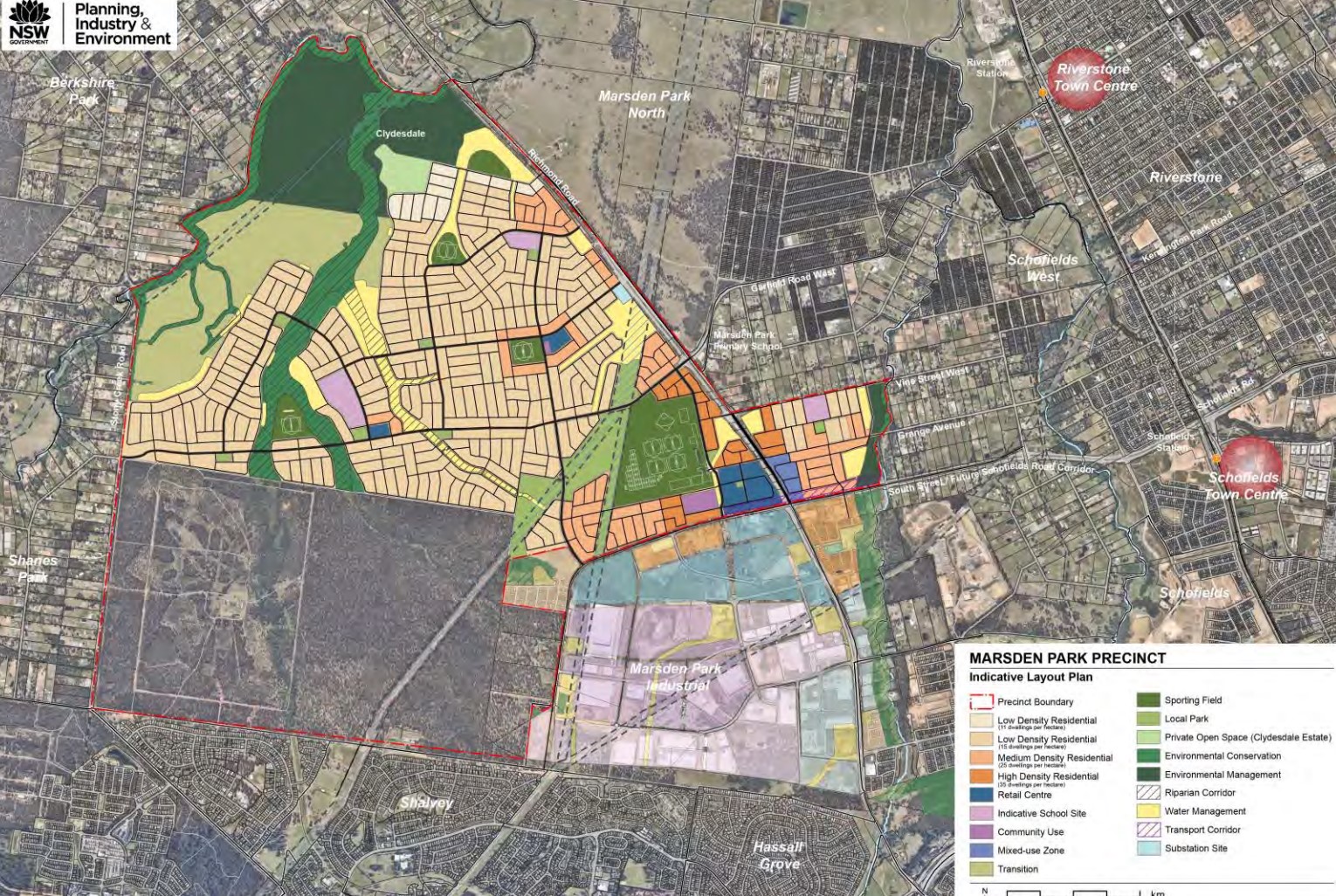 Marsden Park Precinct

The New South Wales State Government aimed to provide a new precinct that provided new and diverse housing in Sydney that is well connected to major centres and employment while protecting significant vegetation within the Precinct. The precinct is to provide for a mix of housing types that allows greater choice for different household types. Predominantly made up of low density housing, Medium density housing is located around the village centres, schools and open spaces and Higher density housing is proposed around the town centre.
This precinct plan has been active for 12 years and the new urban areas are starting to emerge in the north of the land application area. A new town centre and two local centres will provide for the 10,000 new homes expected to be constructed, with a new road that will include upgrades to major roads including Richmond Road. 108 ha of open space and recreational area, along with more than 450 hectares of significant vegetation and major creek corridors will provide for the new community.
It is noted that the Precincts of Marsden Park Industrial and North will use parts of the former Marsden Park suburb for separate growth areas.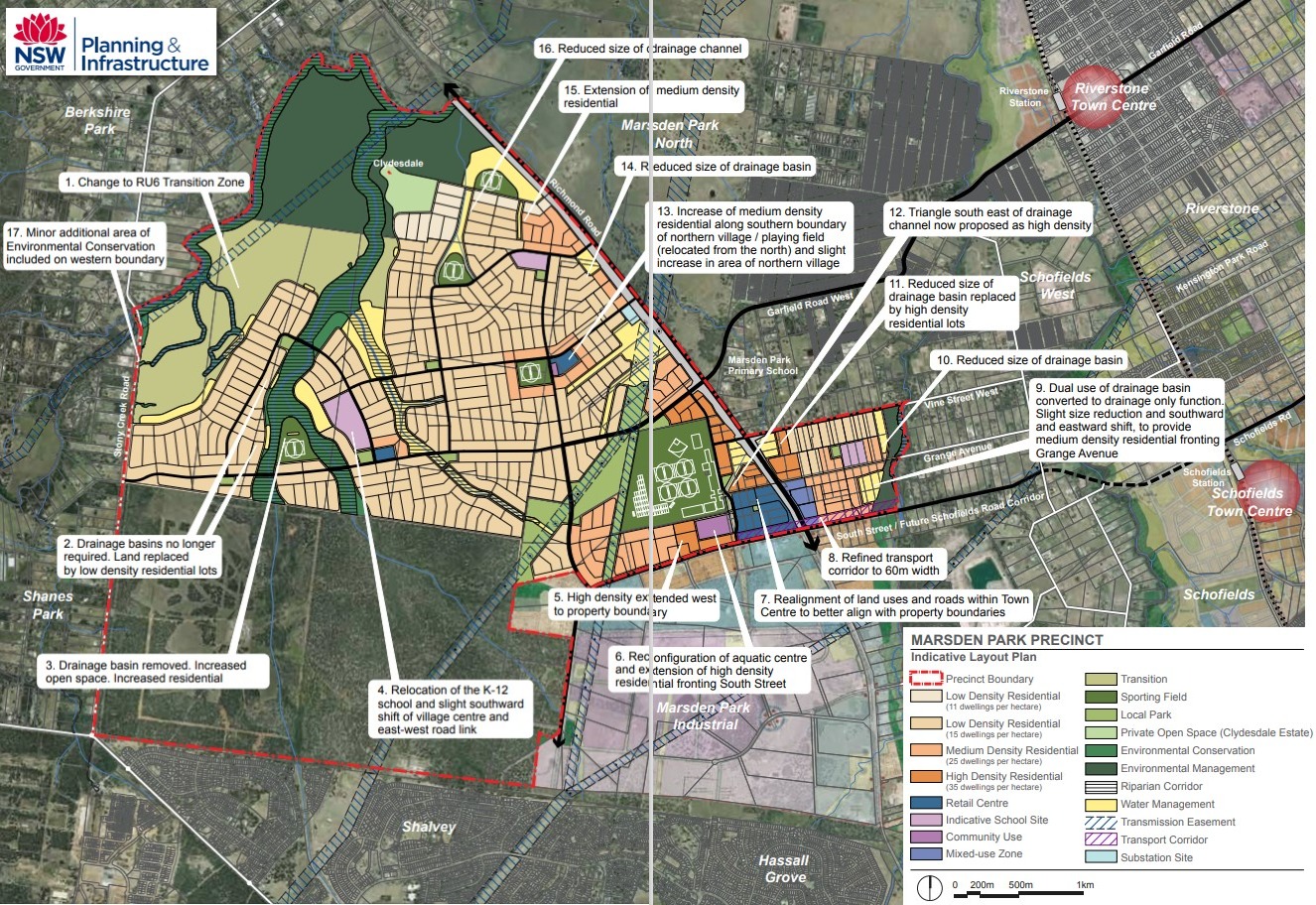 Vision
"Planning for the Marsden Park Precinct responds to the need for new and diverse housing in Sydney that is well connected to major centres and employment, protects natural assets and encourages sustainable living. Consideration of the surrounding context, history and natural environment has informed the precinct planning process".
"The Precinct will consist of a mix of housing types that allows greater choice for different household types. It is predominantly accommodated with low density housing. Medium density housing is located around the village centres, schools and open spaces. Higher density housing is proposed around the town centre to optimise convenient living near retail, community facilities, schools, recreational facilities and public transport. Items and places of significant heritage value, particularly Aboriginal Heritage and Clydesdale Estate, have been integrated into the planning of the Precinct and protected through a sensitive design approach".
"The town and village centres, each having a specific character and role, will support retail, commercial and community services to promote community interaction. A mixed-use development area along Richmond Road allows supporting functions to the Marsden Park Town Centre and the adjacent Marsden Park Industrial Precinct. The conversion of the former Grange Avenue Landfill Site over time for sporting facilities will support active and passive recreational uses close to the Town Centre. The former Air Services Site in the south of the Precinct remains reserved as a future regional conservation area. Direct road connections to the nearby Riverstone and Schofields Railway Stations ensure regional public transport accessibility".
"Consideration has also been made for a transport corridor that could potentially link the Precinct to the North West Rail Link. A safe and permeable street network will promote accessibility, connectivity and social interaction. The provision of cycleways and pedestrian connections, as well as public transport connections to surrounding centres, will promote a community that is less dependent on private vehicle use. Local food production is encouraged within the undeveloped floodplain along South Creek. This will provide the benefit of fresh food sources and may instil a feeling of community responsibility".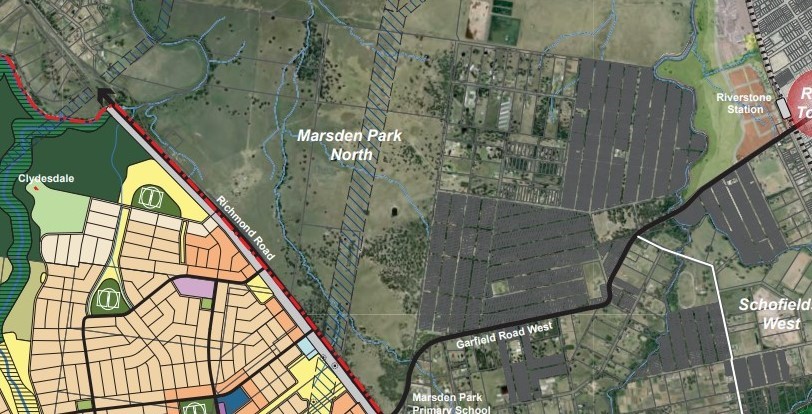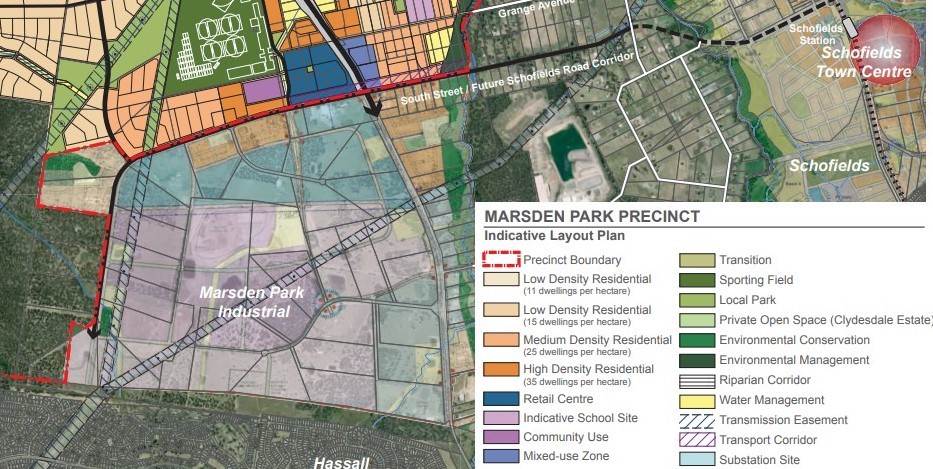 Suburb Summary
Suburb

Marsden Park

City / State

Blacktown City Council, New South Wales

Suburb Area

1,380ha

Boundary

Marsden Park Growth Area Inclusions

Suburb inclusions

Community Amenity

Local parks
significant vegetation and major creek corridors
Spots and recreational space

Location

Marsden Park, 49 kilometres northwest of Sydney

Education

Types of Residential

Housing choice and diversity to meet the needs of the community, through a mix of housing styles including stand-alone within the following areas, Low density residential (11 dw/ha), Low density residential (15 dw/ha), Medium density residential (25 dw/ha) and High density residential (35 dw/ha)

Employment Areas

Local business and village centre, school and services

Infrastructure

Roads, drainage and pedestrian/cycle network

Transportation

Local road network and 60m transport corridor

Recreation Areas

108 hectares of open space and recreation areas

Environment

Settlement Pattern

Informal grid around corridors (infrastructure and natural)
References
---
Land Release Applications for SHAWOOD at Elara - Marsden Park
Land release
Land report
Number of lots
Plan number
Land surveyor
Lodged date
Intended use
Settlement tracking
No updates found
---
Reviews & Comments on SHAWOOD at Elara - Marsden Park
---
Estate Brochure, Masterplan, Engineering Plan, Plan of Subdivision (POS), Design Guidelines
---
FAQs about SHAWOOD at Elara - Marsden Park
Who is the developer behind SHAWOOD at Elara - Marsden Park?
How many homes does SHAWOOD at Elara - Marsden Park consist of?
There will be 16 new homes in SHAWOOD at Elara - Marsden Park.
Which city council does SHAWOOD at Elara - Marsden Park fall under?
Blacktown City Council is the local government area for SHAWOOD at Elara - Marsden Park.
Which schools near SHAWOOD at Elara - Marsden Park?
Below are the nearby schools for SHAWOOD at Elara - Marsden Park:
St Luke's Arrunga - 262m north
St Luke's Catholic College (Primary) - 422m north-east
Northbourne Public School - 660m north
Marsden Park Public School - 1.5km east
Shalvey Public School - 2.9km south
Australian Christian College - Marsden Park - 3.1km north-east