Leppington is approximately 21.32 square kilometres south-west within the Liverpool Council and Camden Council forming part of the Greater Western Sydney region in New South Wales, located 38 kilometres south-west of Sydney. The suburb is primarily large rural land holdings, with rural residential properties found in the west and new residential development with an increased density along the eastern boundary area. The suburb does not have a business district and has a train station, located in the north of the suburb.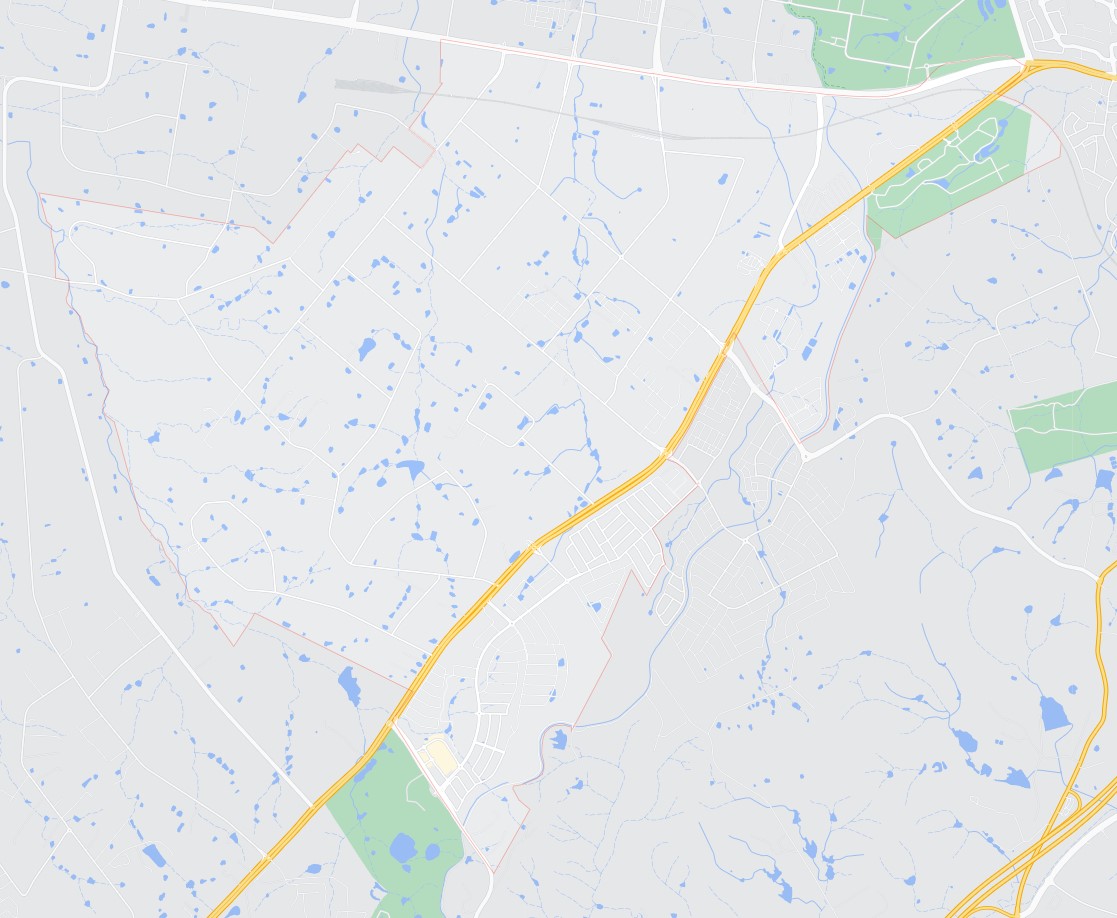 The suburb boundary is located along Rileys Creek and the flood boundary is to the west. The property boundary to the east is found along a drainage channel, property boundary and Camden Valley Way. Property boundaries and Bringelly Road to the north.
A series of local roads are provided throughout Leppington, providing access to the surrounding suburbs and the local network of roads. Kemps Creek continues from the adjoining suburb of Austral and splits into other smaller creek corridors connected by a series of dams.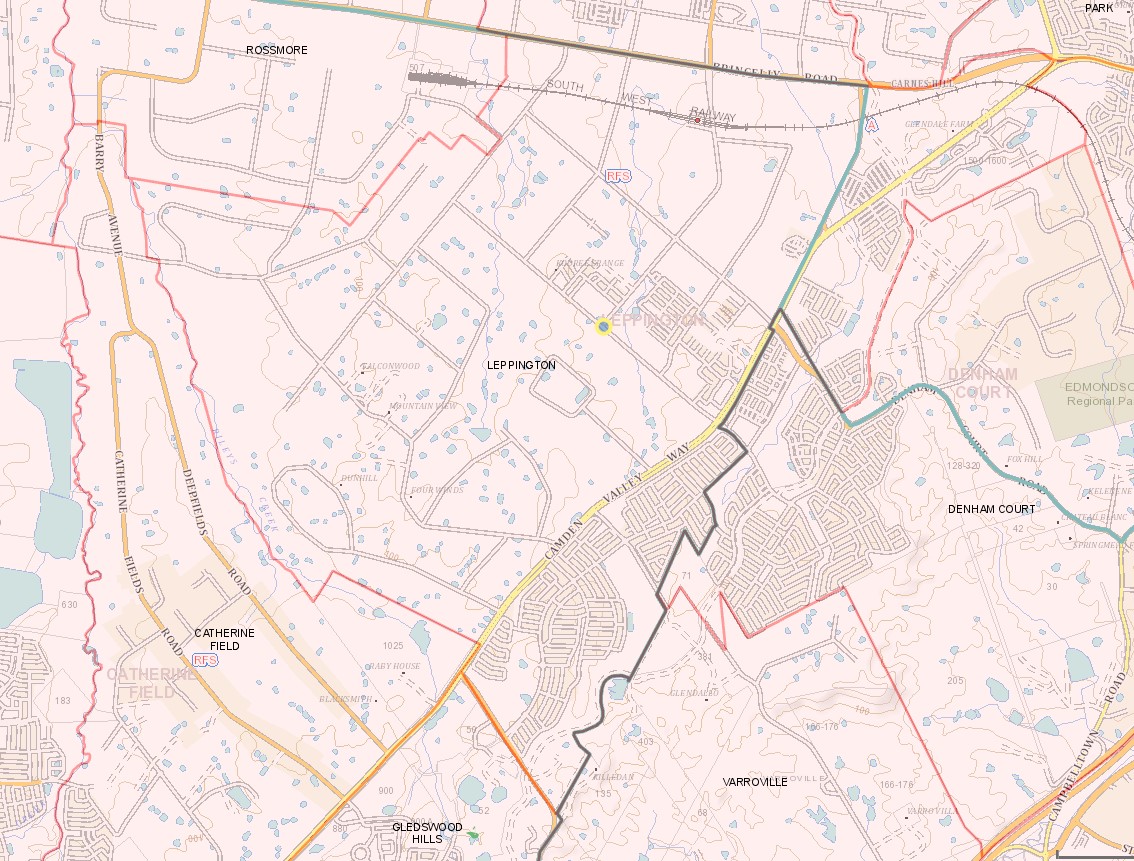 South West Priority Growth Area
Sydney's South West will form part of the new approach to planning in NSW, following a review by the Department of Planning Industry and Environment in partnership with the Greater Sydney Commission and Government Architect. The decision was made to deliver 51 growth precincts, with the state government able to target areas and local councils empowered to get the correct planning for their community. The precinct planning will occur in four different pathways, being:
State-led strategic planning

Collaborative planning between the State and councils

State-led rezoning

Council-led rezoning
The recent projects in Leppington forms part of the South West Growth Area and will proceed under the Collaborative planning and Council-led rezoning methods:
Leppington Precinct Stage 2 and 5 will bring councils, State agencies and the community together to resolve complex issues and drive quality place outcomes.

Leppington Town Centre will provide councils and communities with the support they need as they lead the planning for their areas.
Leppington forms part of the South West Growth Area and a Development Control Plan (DCP) was prepared to embed density controls in precinct plans to ensure that infrastructure planning aligns with growth. This Plan is known as the Camden Council Growth Centre Precincts Development Control Plan (DCP), particularly Schedule 5 – Leppington Precinct was adopted and came into force on 3 April 2013 and was recently amended on 24 November 2021 to allow further refinement of stages of the Leppington suburb redevelopment.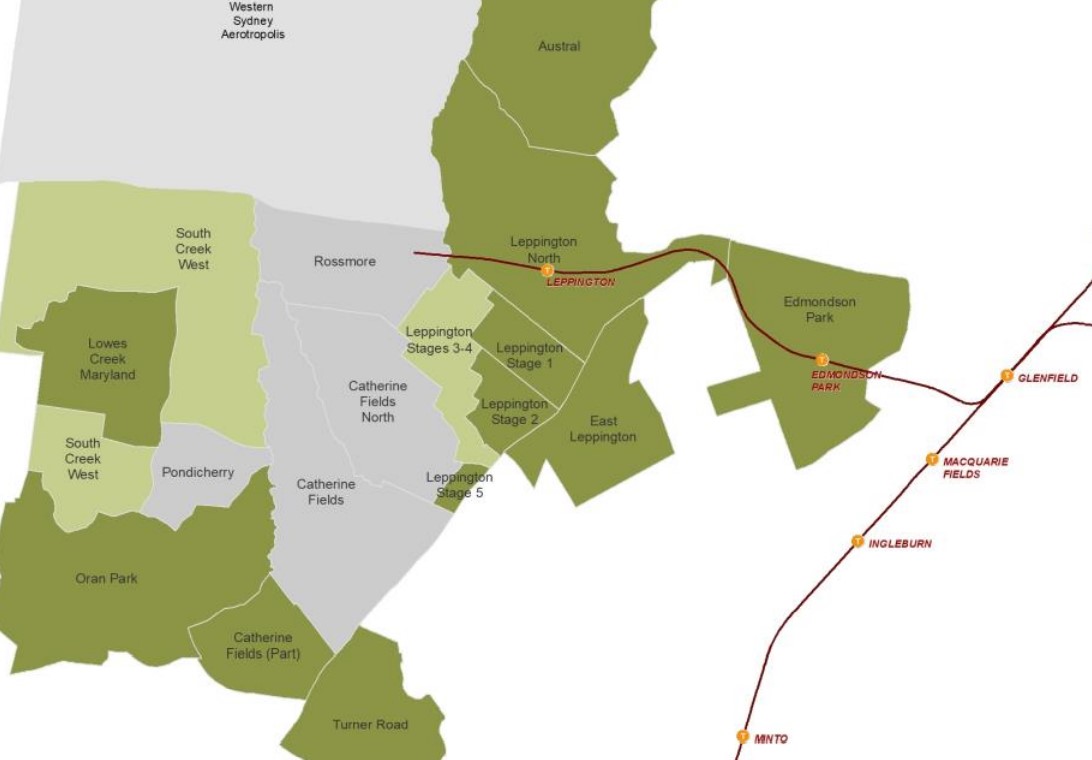 The DCP was prepared to provide additional guidance to developers, simplify the planning and ensure the orderly, efficient and environmentally sensitive development within the Precinct. The Leppington Growth Centre Precinct is to be envisaged by the South West Sector Structure Plan and refined by the Leppington Growth Centre Precincts Indicative Layout Plan
Leppingtons Precinct
The Leppington Growth Centre Precinct provides the planning so new development provides residential and employment areas that respond to the Precincts' natural environment. A mix of recreation, employment and residential will be designed to address public transport use, walking and cycling. The New South Wales State Government aimed to provide new precincts, as an attractive and well-connected community, in proximity to public transport, community facilities, open space and retail.
Stage 1 of the rezoning of Leppington started in 2012, however was rezoned in November 2015 when infrastructure capacity was available. State 1 was prepared under the Leppington Major Centre Boundary of the Liverpool Growth Centre Precincts Development Control Plan. It included the boundary realignment of the suburb Austral and made was for a new precinct called Leppington North, which was entirely within the former Austral boundaries.
Stage 2 and 5 of the rezoning packages were exhibited from 10 November to 19 December 2014. In, Stage 1 of the Precinct. Leppington Precinct Stages 2 and 5 were rezoned on 16 July 2021.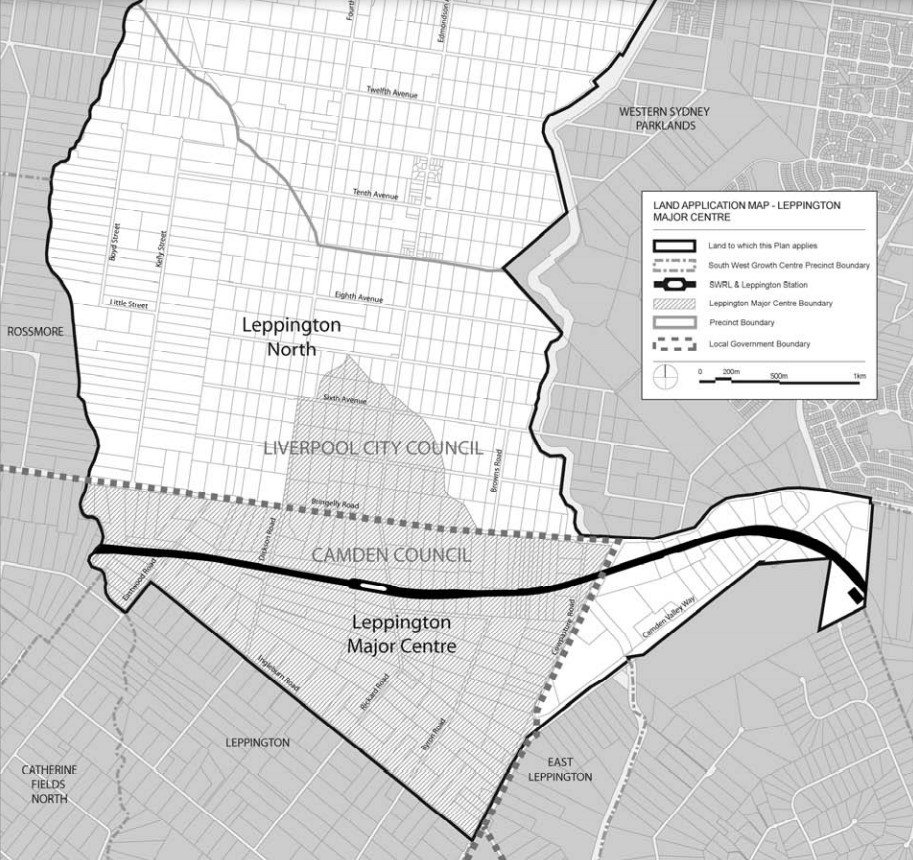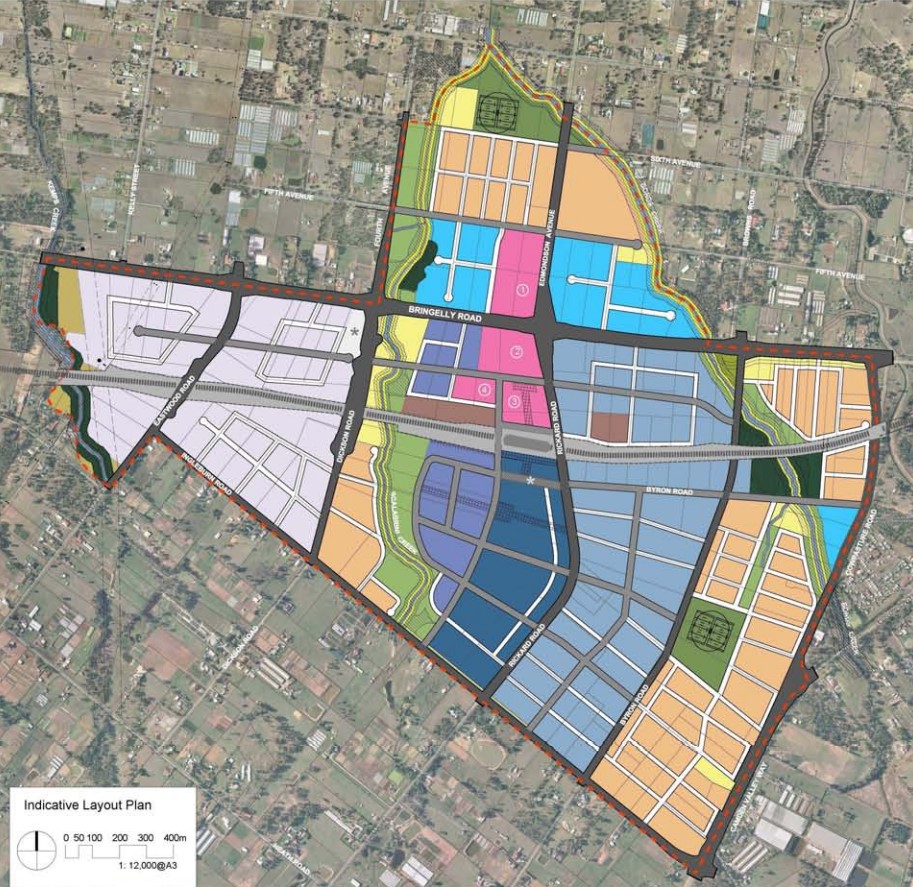 STAGE 1
2,500 new homes and the delivery of local amenities

a new primary and K-12 school

a new community centre

access to a Major Centre in the nearby Leppington North Precinct where jobs, shopping, entertainment, community and government services will be provided

proximity to the Leppington Railway Station on the South West Rail Link

upgrades to rail and major roads, including Camden Valley Way

playing fields and recreational land along Scalabrini Creek.
STAGE 2 and 5
1,900 dwellings in Stage 2

500 in Stage 5

Set aside land for a new school

Provide for 8.32ha of local open space to be delivered over time

Identify 23.18ha of land to be set aside for other infrastructure purposes.
The community will also enjoy the 7.6ha Leppington Park located just outside the precinct, worth $4m.
It is noted that land east of Camden Valley Way and Denham Court was used to create East Leppington in March 2013.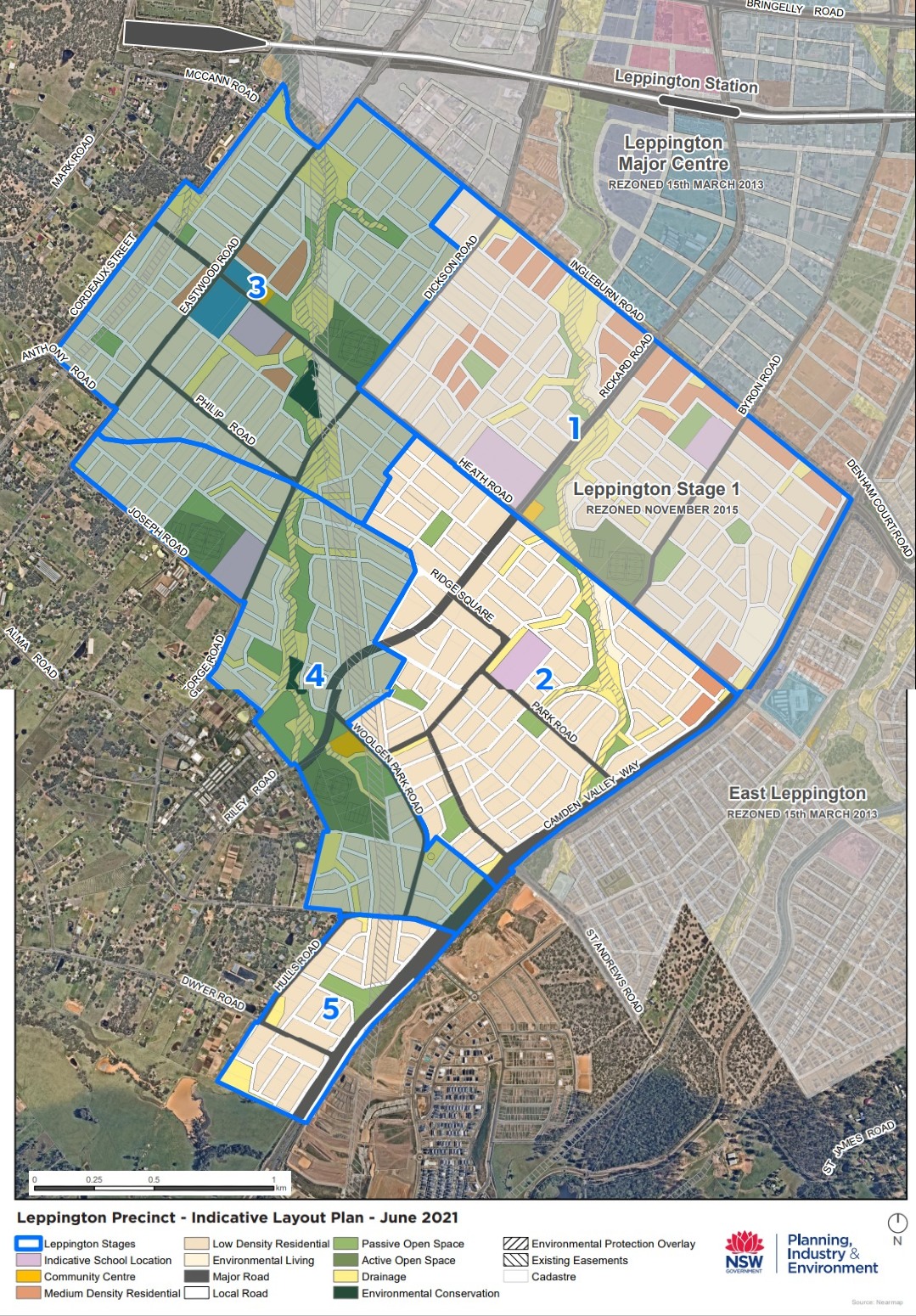 "The vision for the Leppington Precinct is that a range of housing types will develop to meet the needs of a well-connected and diverse community, supported by local facilities and infrastructure, in a manner that responds to the unique characteristics of the Precinct, including waterways and landform associated with Scalabrini and Kemps Creek and any Aboriginal or European heritage".
"The Leppington local centre will be the main focus of activity and daily life for the Precinct, providing for community interaction and delivering services and facilities to meet the needs of all residents. Community centres and major community facilities such as schools and sporting fields will provide shopping, jobs, recreation and social opportunities at a more local level for residents. Consideration has been given to ensure proposed school locations align with public recreation facilities through the provision of shared bike and pedestrian paths".
"The nearby Leppington Major Centre will create opportunities for residents of the Precinct to take advantage of excellent access to public transport, regional level shopping, entertainment, parks and community facilities in a high quality urban environment. Scalabrini and Kemps Creeks will be important green corridors that integrate biodiversity, water management and passive recreational values, and will present a considerable amenity resource for the community".
"Where possible, remnant vegetation will be retained in public parks. Selected parks have been positioned on the high points of the land and will provide views across the Precinct and beyond. The Precinct will be an integral part of the Camden local government area and the South West Priority Growth Centre. It will be linked to surrounding suburbs and to major regional destinations such as the Western Sydney Parklands and the regional centres of Liverpool and Campbelltown".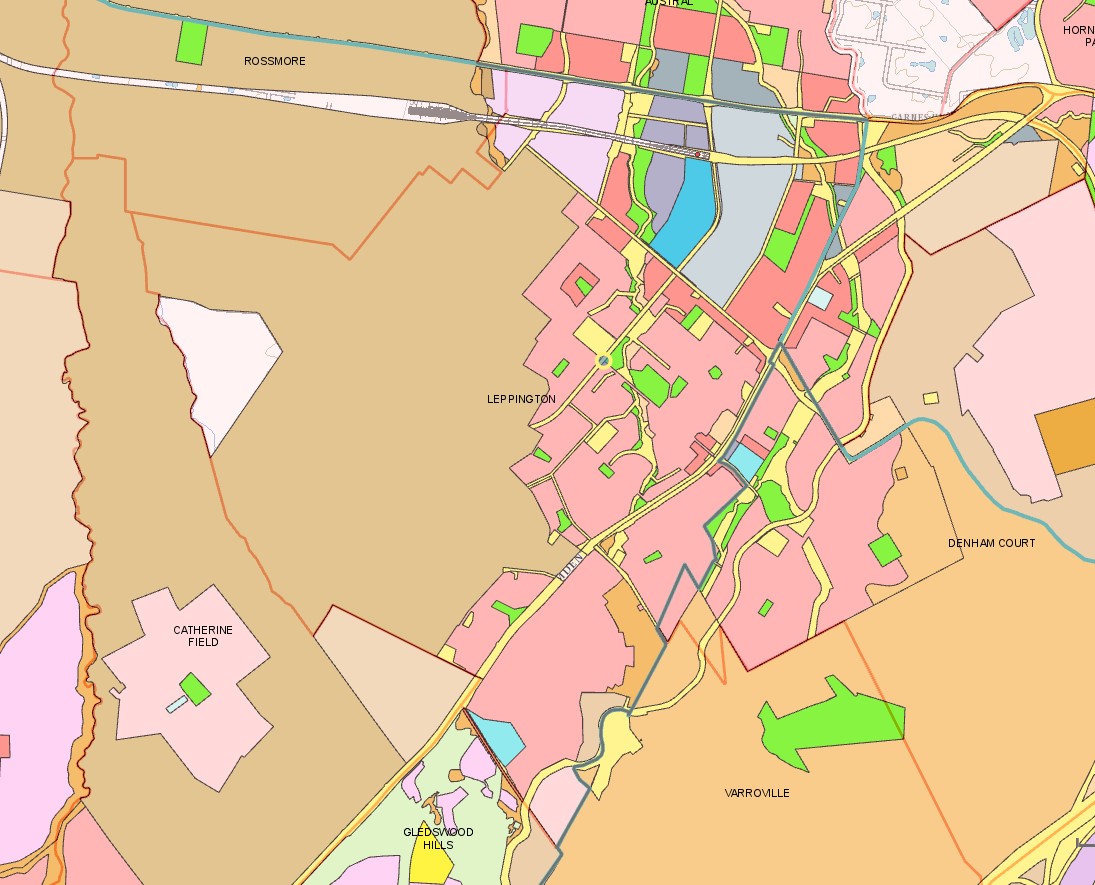 Precinct Zoning
The existing zoning will be amended to provide for future infrastructures to facilitate future development within the Leppington Growth Centre Precincts. A new village centre including a supermarket and some community facilities is planned to meet the local shopping needs of future residents.
A new road network has been designed to help provide safe streets for residents, cycling and walking paths, and provide direct access to the village centre. The new roads will enable bus services to connect people to surrounding suburbs and areas for schools, employment, retail, open spaces and services. Pedestrian and cyclist facilities will be constructed along open space and creek corridors that will access the new residential areas.
Green spaces will be integrated with new homes with landscaping and tree planting along streets and in public domain areas and with protected remnant stands of vegetation local residents enjoy.
Suburb Summary
Suburb

Leppington

City / State

Liverpool Council

and Camden Council

, New South Wales

Suburb Area

21.32

square kilometres

Boundary

North –

Property boundaries and Bringelly Road

East – D

rainage channel, property boundary and Camden Valley Way

West –

Rileys Creek and the flood boundary

Leppington Precinct (stages 1, 2 and 5)

Suburb inclusions

Stage 1
New primary and K-12 school

2,500 new homes and the delivery of local amenities

New community centre

Access to a Major Centre in the north

Upgrade to Leppington Railway Station

Camden Valley Way playing fields

Recreational land along Scalabrini Creek.

Stages 2 and 5

1,900 dwellings in Stage 2

500 dwellings in Stage 5

Set aside land for a new school

Provide for 8.32ha of local open space to be delivered over time

Identify 23.18ha of land to be set aside for other infrastructure purposes.

Community Amenity

Large rural and low-density residential areas

Local parks

Spots and recreational space

Location

Leppington,

38 kilometres South West

of Sydney

Education

Possible 3 new schools

Types of Residential

Housing choice and diversity to meet the needs of the community, through a

mix of housing styles including stand-alone, low density dwellings, terraces on land rezoned for medium density development and high-density development.

Employment Areas

Local business and village centre, school and services

Infrastructure

Roads, stormwater, rail

Transportation

Local road network, train station

Recreation Areas

5 local parks and an open space watercourse corridor

Environment

Creek corridors

Settlement Pattern

Informal grid with separated land uses (Residential and Industrial) altered by existing infrastructure
References