[limited offer] Selling out Fast!! ACT NOW!
Just a short walk to IGA Supermarket, local shops and other amenities
Close to child care centres and excellent schools
1km away from the M7 on-ramp and just over 5km from Leppington Train Station
12km away from future Western Sydney Airport at Badgerys Creek
This information is estimated by the OpenLot research team. Let us know here to provide up-to-date information about this development.
---
Land for Sale, House & Land Packages:
---
Updates for Rohan's Run Estate - Austral
---
Location & Map for Rohan's Run Estate - Austral
---
Vacancy Rate in Austral NSW 2179
View full vacancy rate history in Austral NSW 2179 via SQM Research.
---
Suburb Planning Review in Austral NSW 2179
Austral is approximately 14.33 square kilometres located within the Liverpool Council and Camden Council forming part of the Greater Western Sydney region in New South Wales, located 42 kilometres south-west of Sydney. The suburb is primarily large agricultural land holdings and rural residential properties, with sporadic residential development increasing the density across the suburb. The suburb has a small business district in a central location, providing a strip of urban conveniences, retail and services that provide for the area. The Leppington train station is found to the south, outside the suburb boundary.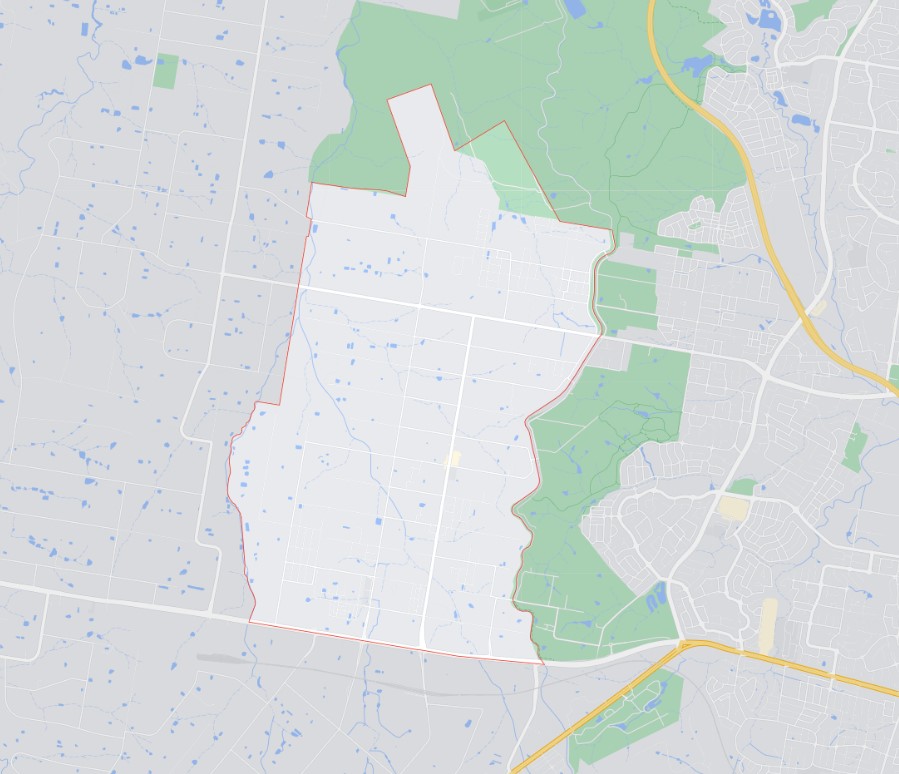 The suburb boundary is located along Kemps Creek and property boundaries are to the west, with the suburb boundary found along a drainage channel to the east. The suburb boundary is located along Bringelly Road to the south, with the TransGrid – Kemps Creek Electrical Substation and property boundaries providing the suburb boundary to the north.
A unique vegetated preservation area located to the north and east, known as the Western Sydney Parklands covers 5,280 hectares and features a great assortment of picnic areas, walking and cycling tracks, and other entertainment facilities.
Fifteenth Avenue and Edmondson Avenue are the two major roads that provide access to the surrounding suburbs and the local roads network sound within the suburb. Kemps Creek continues from the adjoining suburb of Kemps Creek and splinters into other smaller creek corridors that traverse the suburb.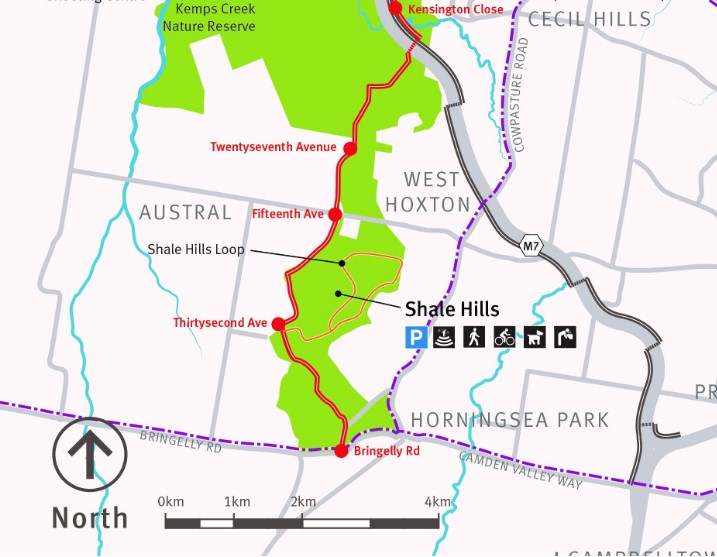 South West Priority Growth Area
The Austral Precinct is within an urban release area in Sydney's South West Growth Centre and the Liverpool Local Government Area prepared the Liverpool Contributions Plan in 2014. The plan was to authorise the imposition of development contributions on development expected to occur in the Austral Precinct that would assist in the funding of new and augmented infrastructure needs. The Plan was adopted by Council on 26 May 2015 and came into effect on 3 June 2015.
The Liverpool Contributions Plan allocated a portion of Austral in the rezoning to a new precinct called Leppington North and a Leppington Major Centre. As a result, the suburb of Austral is now a reduced size and shape, with the new southern boundary along the Kemps Creek corridor and Ninth Avenue.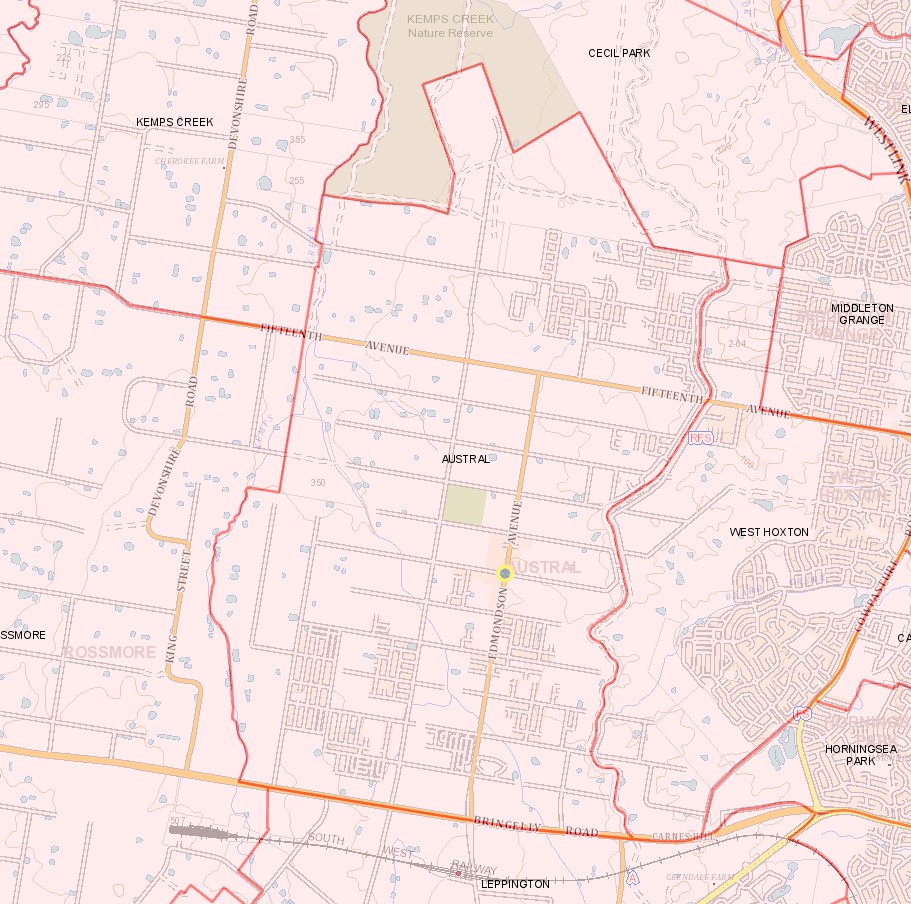 The NSW State Government Department of Planning and Environment is preparing an update of the SGWA Structure Plan as a lot has occurred since it was published (below). Work has commenced with the relevant councils (Camden, Campbelltown and Liverpool Councils) as well as other state agencies and industry groups, to ensure the Structure Plan reflects current planning for the area.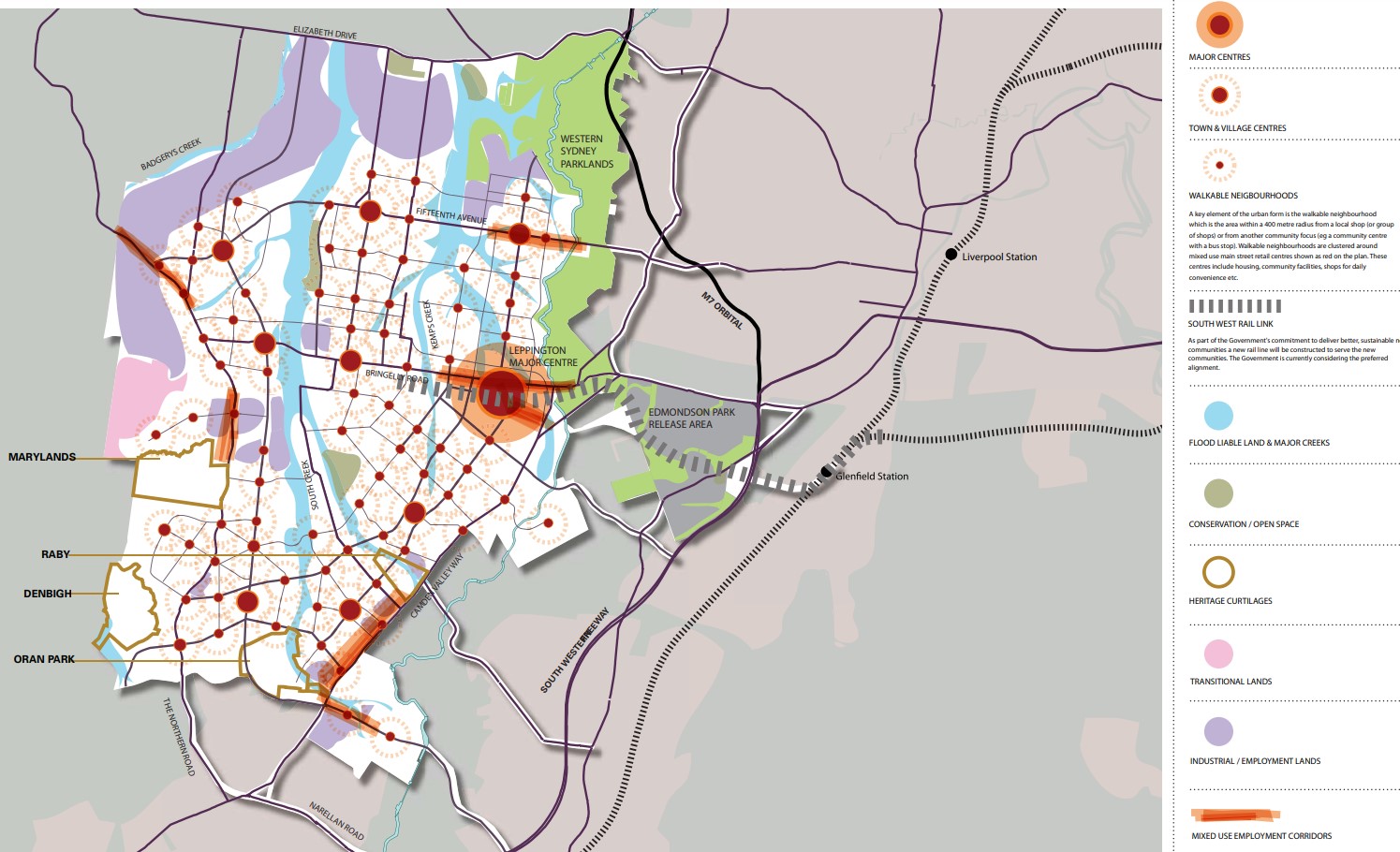 Austral forms part of the South West Growth Area and a Development Control Plan (DCP) was prepared to embed density controls in precinct plans to ensure that infrastructure planning aligns with growth. This Plan is known as the Liverpool Growth Centre Precincts Development Control Plan (DCP), particularly Schedule 1 – Austral and Leppington North Precincts and Schedule 2 - Leppington Major Centre Precinct was adopted and came into force on 3 April 2013 and was recently amended on 18 June 2021 (Austral ILP Amendment).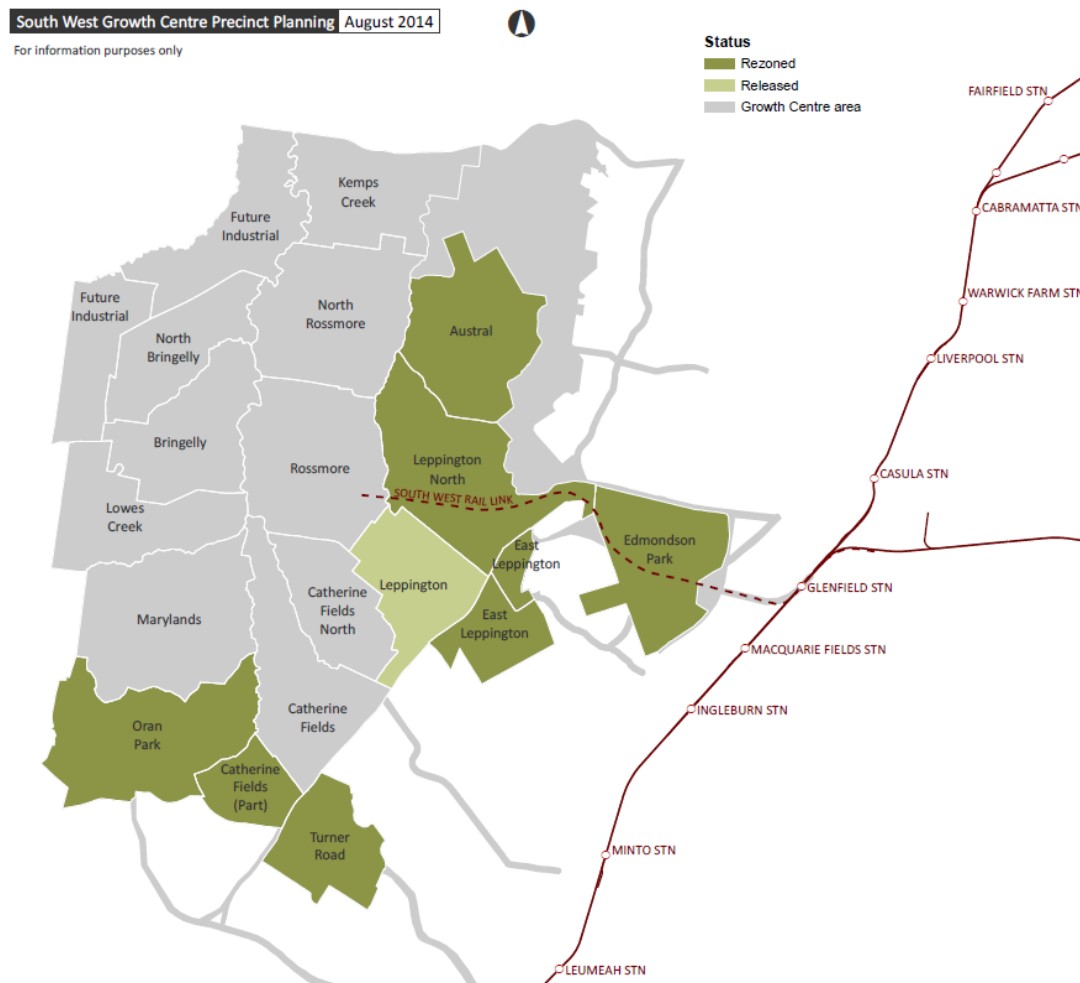 The DCP was prepared to provide additional guidance to developers, simplify the planning and ensure the orderly, efficient and environmentally sensitive development within the Precinct. The Liverpool Growth Centre Precinct is to be envisaged by the South West Sector Structure Plan and refined by both the Indicative Layout Plan for Austral and Leppington North Precincts and Leppington Major Centre.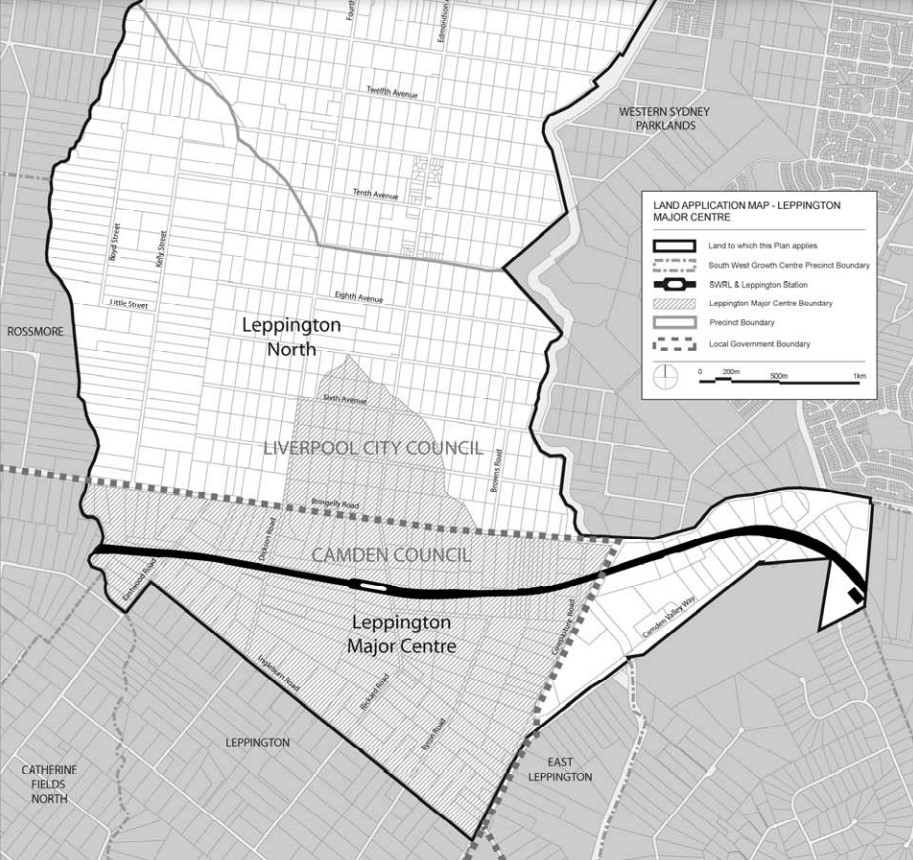 Austral & Leppington North
new Major Centre

the new Leppington station

three neighbourhood centres

220 hectares of employment land

135 hectares of open space and recreation areas

upgrades to major roads

new primary and high schools

protection of significant vegetation, and major creek corridors

improved connections to encourage walking and cycling.
The newly revitalised community at Austral & Leppington North will benefit from up to 17,350 new homes and the delivery of local amenities close to transport options, including: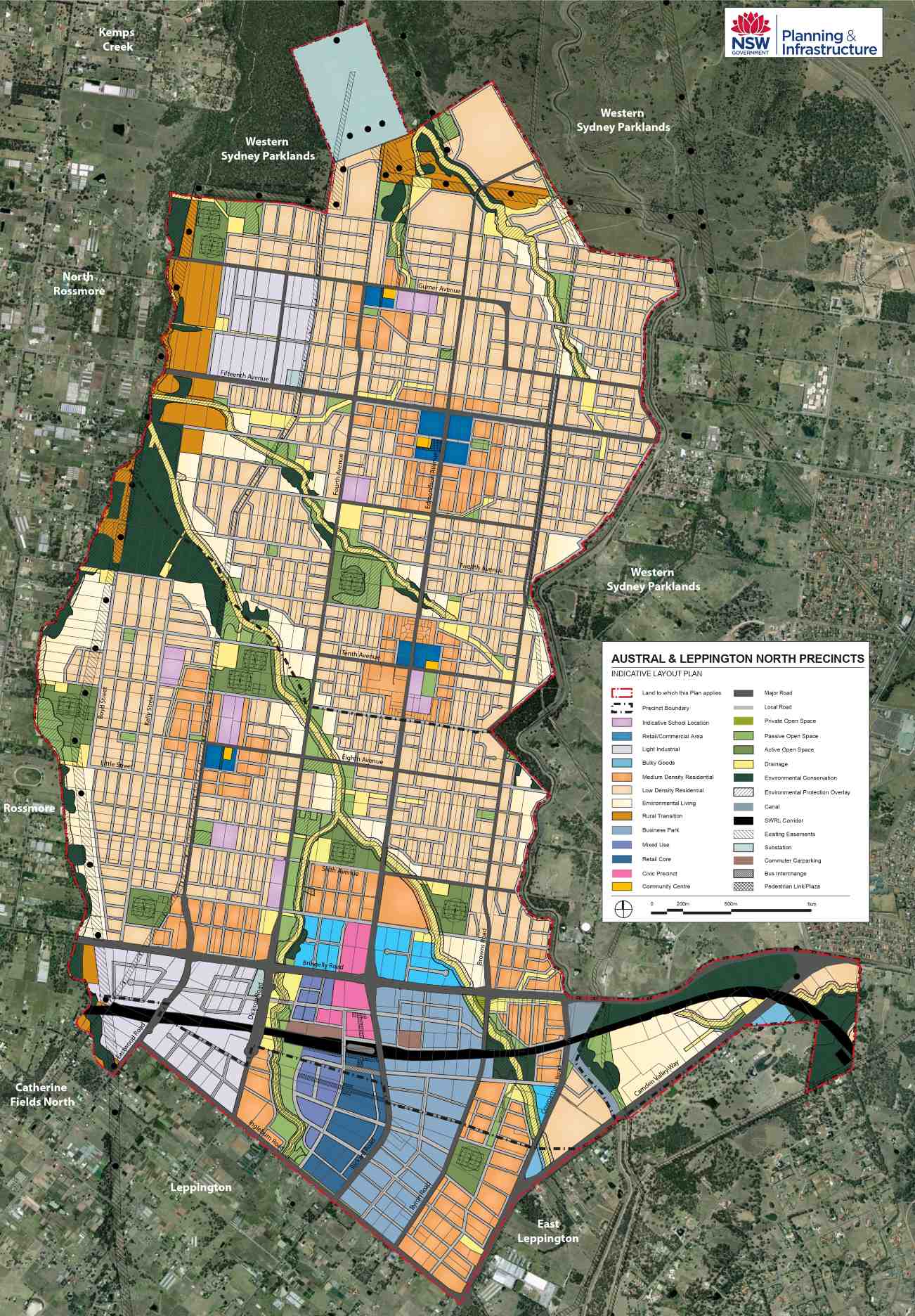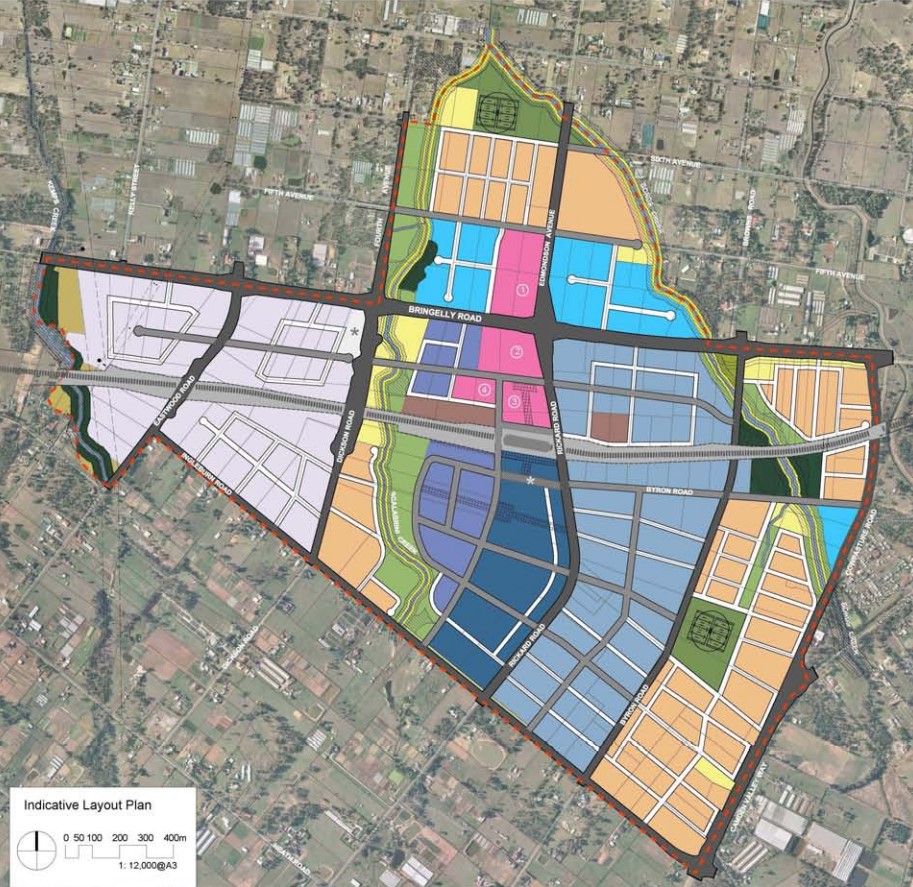 Precinct Zoning
The existing zoning will be amended to provide for future infrastructures to facilitate future development within the Austral and Leppington North Precinct and Leppington Major Centre Precinct. A major centre is to be established above the Leppington Train station and localised town/village centres provided at major intersections. The structure plan provides for the community including supermarkets, community facilities, retail and services to meet the local shopping needs of future residents.
A new road network has been designed to help provide safe streets for residents, cycling and walking paths, and provide direct access to the village centre. The new roads will enable bus services to connect people to surrounding suburbs and areas for schools, employment, retail, open spaces and services. Pedestrian and cyclist facilities will be constructed along open space and creek corridors that will access the new residential areas.
Green spaces will be integrated with new homes with landscaping and tree planting along streets and in public domain areas and protected vegetation.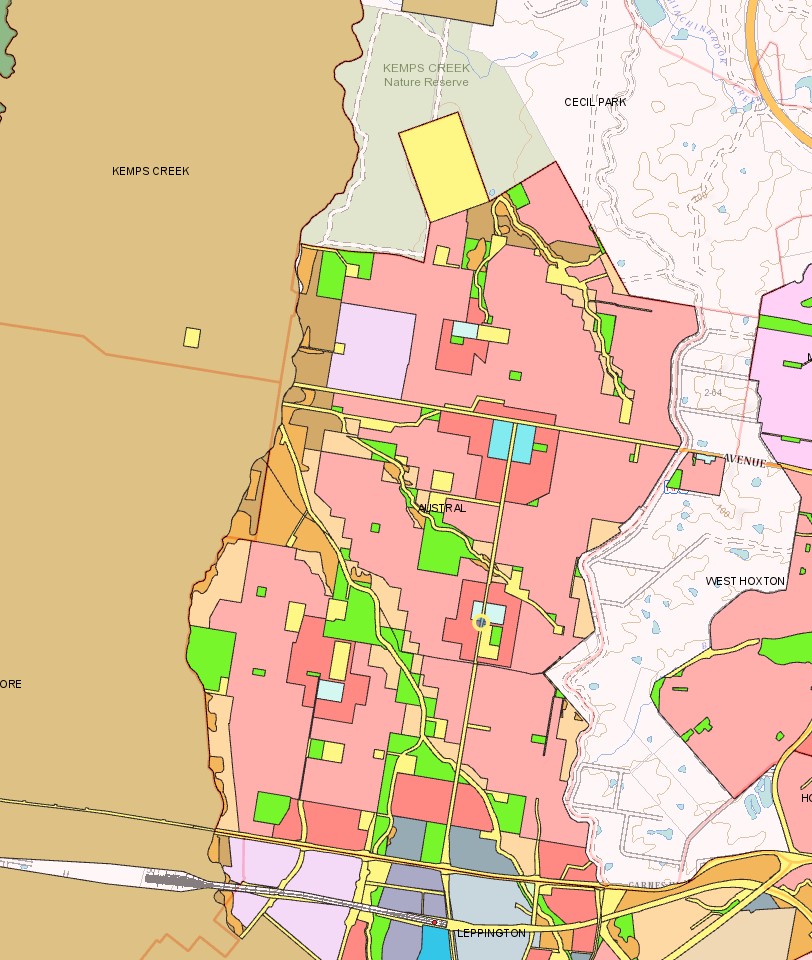 Suburb Summary
Suburb

Austral (and Leppington North Precinct)

City / State

Liverpool Council, New South Wales

Suburb Area

14.33 square kilometres

Boundary

North –Electrical Substation, property boundaries and Bringelly Road

East – Drainage channel

West – Kemps Creek and Property Boundaries

South – Bringelly Road (new boundary: Kemps Creek corridor and Ninth Avenue).

Austral and Leppington North

Suburb inclusions

Stage 1
new Major Centre

Community Amenity

low-medium density residential areas
Local parks
Spots fields
Recreational space

Location

42 kilometres South West of Sydney

Education

Possible 7 new school locations

Types of Residential

Housing choice and diversity to meet the needs of the community, through a mix of housing styles including stand-alone, low density dwellings, terraces on land rezoned for medium density development and high-density development.

Employment Areas

Local business and village centre, school and services

Infrastructure

Roads, stormwater, rail

Transportation

Local road network, train station (in proximity)

Recreation Areas

District sports parks, local parks and open space watercourse corridor

Environment

Creek corridors and adjoining parkland reserve

Settlement Pattern

Informal grid with separated land uses (Residential and Industrial) altered by waterway corridors
References
Google Streetview and Aerial
---
Land Release Applications for Rohan's Run Estate - Austral
Land release
Land report
Number of lots
Plan number
Land surveyor
Lodged date
Intended use
Settlement tracking
No updates found
---
Reviews & Comments on Rohan's Run Estate - Austral
---
Estate Brochure, Masterplan, Engineering Plan, Plan of Subdivision (POS), Design Guidelines
---
FAQs about Rohan's Run Estate - Austral
Who is the developer behind Rohan's Run Estate - Austral?
What's the total area size for Rohan's Run Estate - Austral?
Rohan's Run Estate - Austral has 2.71 hectares total area size.
Which city council does Rohan's Run Estate - Austral fall under?
Liverpool City Council is the local government area for Rohan's Run Estate - Austral.
Who is the project marketer for Rohan's Run Estate - Austral?
Which schools near Rohan's Run Estate - Austral?
Below are the nearby schools for Rohan's Run Estate - Austral:
Arrahman College - 810m north-west
Thomas Hassall Anglican College - 1.2km east
Al-Faisal College - Liverpool - 1.7km north-west
Clancy Catholic College - 1.9km south-east
Middleton Grange Public School - 2.0km east
St Anthony of Padua Catholic College - 2.2km south-west