[Limited offer] 20 lots land-only sales, pre benched, retaining wall included!
The newest master-planned community in Sydney's south-west
Easy access to a multitude of shopping and dining options in the future Neighbourhood village centre close by.
Nestled in an elevated location embraced by the natural landscape and country views
Located close to both public and private schools, shopping and medical.
Over 10h of parks and open space, a future park with children's play area, interconnecting designated shared cycle and walkways.
Land Registration: Mid – Late 2023
This information is estimated by the OpenLot research team. Let us know here to provide up-to-date information about this development.
---
Land for Sale, House & Land Packages:
---
Updates for Oxley Ridge Estate - Cobbitty
---
Location & Map for Oxley Ridge Estate - Cobbitty
---
Vacancy Rate in Cobbitty NSW 2570
View full vacancy rate history in Cobbitty NSW 2570 via SQM Research.
---
Suburb Planning Review in Cobbitty NSW 2570
Cobbitty is approximately 5,216.4ha within the north ward of Camden Council and the Hume electoral division in New South Wales, located 60 kilometres south-west of Sydney. The regional area is primarily rural land holdings supported by the Cobbitty Town Centre.
The suburb boundary is located along Bringelly Creek to the north and the long winding Nepean River to the west and south. The Macquarie Grove Road and the Northern Road provide part of the boundary to the east, with a series of property boundaries in the northeast. The Camden Airport is also located in the south of Cobbitty, with the University of Sydney establishing research farms in both the north and south of the area.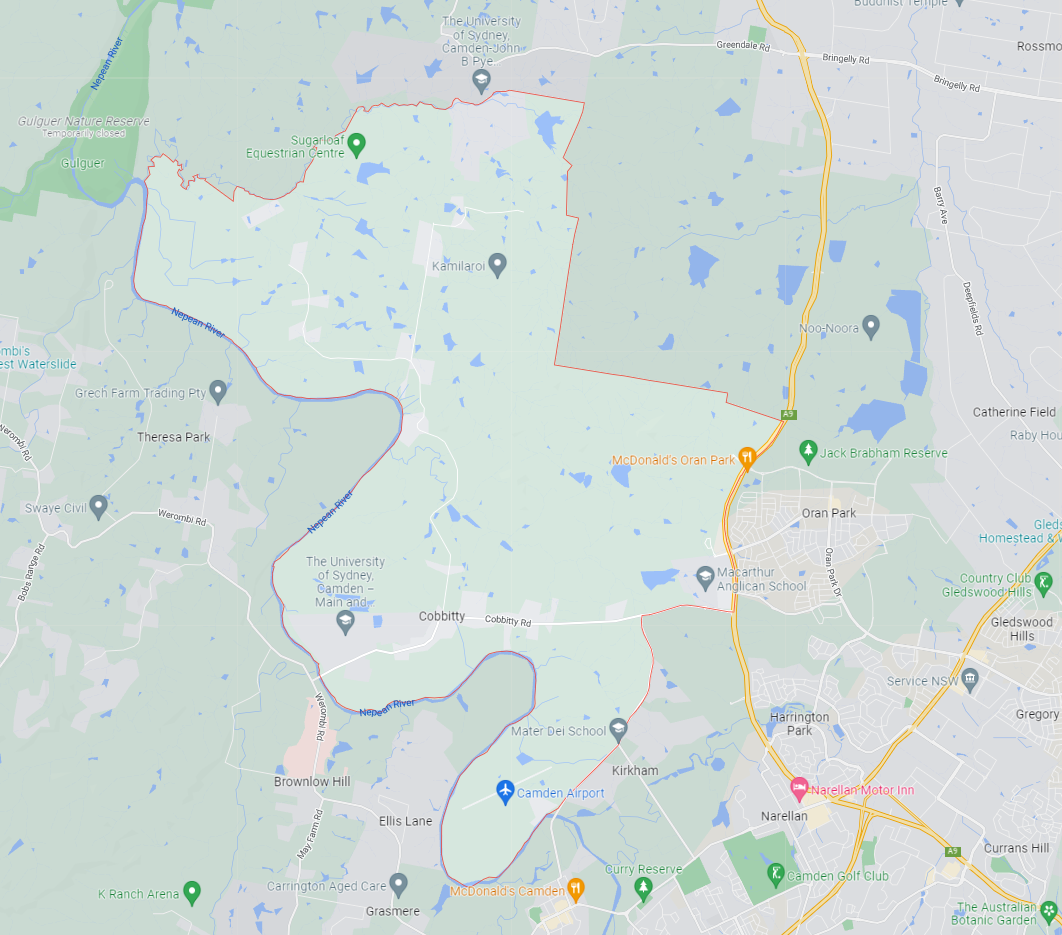 Cobbity Road, Coats Road and Cut Hill Road provide access to the village, the rural properties and surrounding townships. Rural residential zoned areas dominate the northern, southern and western portions of the suburb, however, contains a cluster of low density development to the eastern boundary.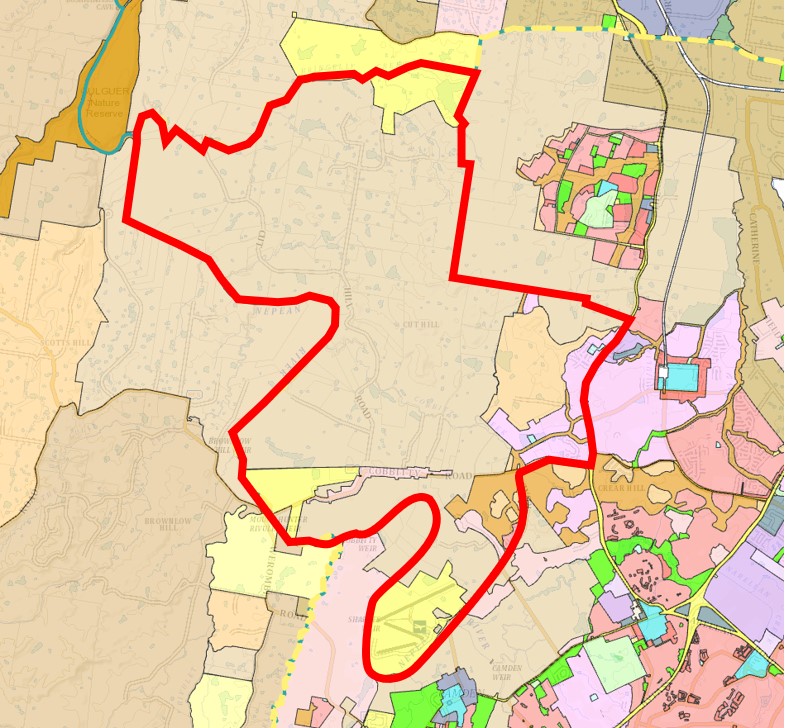 Along both Macquarie Grove Road and the Northern Road, urban areas are being developed under the general residential zoning in an expansion of Oran Park (Local Centre), which is supported by the Oran Park Precinct - Growth Centres Precinct Development Control Plan.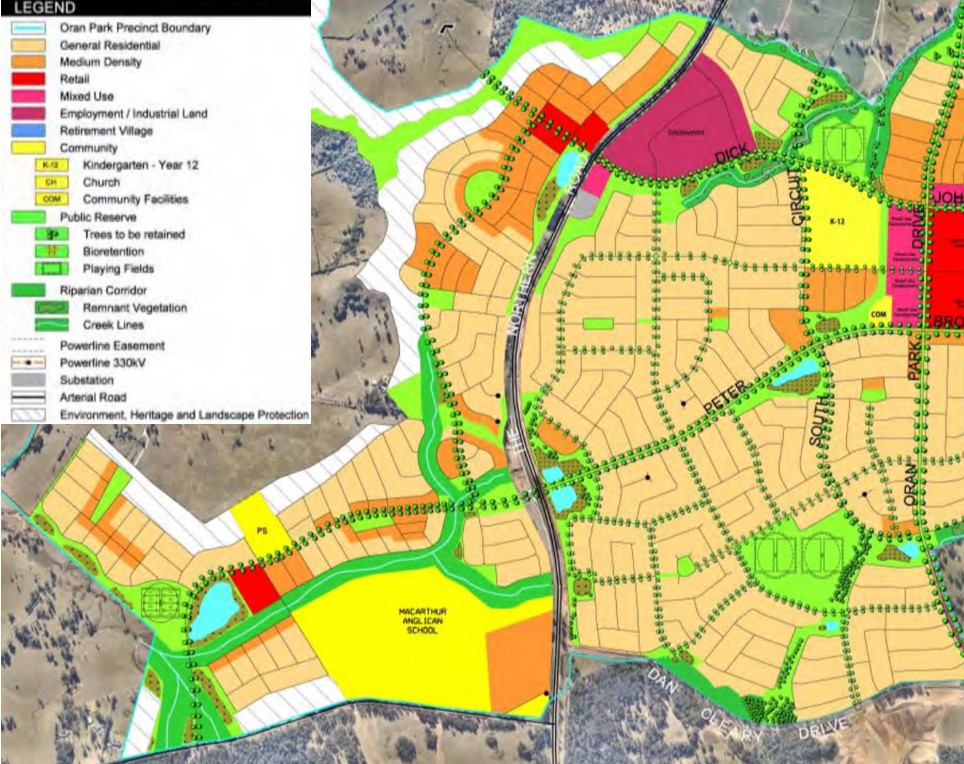 The emerging development wraps around Denbigh, Bangor and Cluny Hill a group of homesteads, buildings and plantations in a large rural setting. The heritage-listed area is of great state significance due to the preservation of the buildings.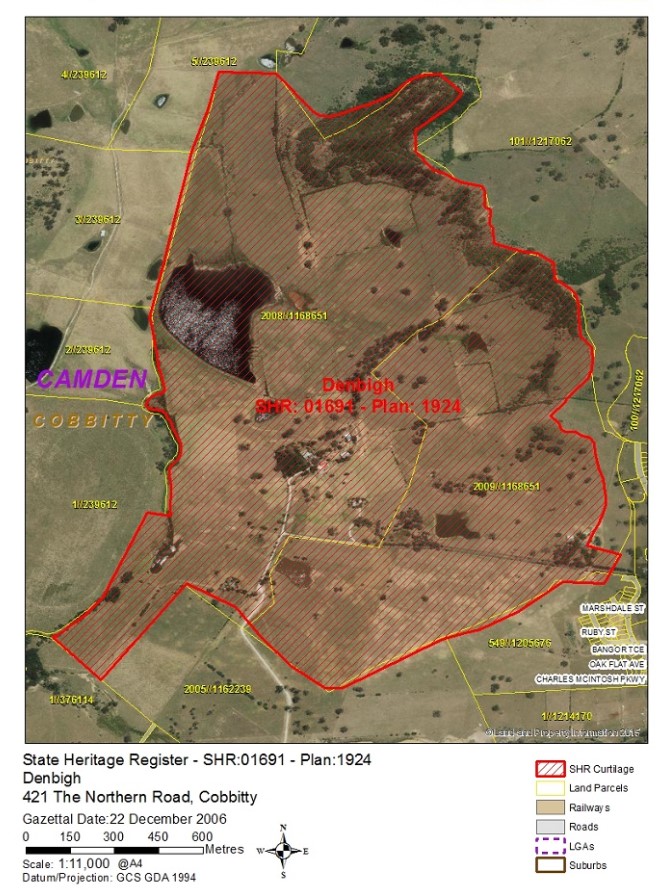 Campbelltown–Macarthur
Cobbitty forms the outer rural area of the Campbelltown–Macarthur a Metropolitan Cluster within the Western Parkland City which will form part of the region plan for Greater Sydney. The vision for the next 20 years is to provide jobs, education, health facilities and services to more residents that live within the new Western Parkland City, drawing on the new Western Sydney Airport and Badgerys Creek Aerotropolis, and North-South Rail Link.
The growth area will create the opportunity for a Western Economic Corridor. The planning priorities and actions for improving the quality of life for residents in this growth area are set down in the Western City District Plan, our greater Sydney 2056, March 2018.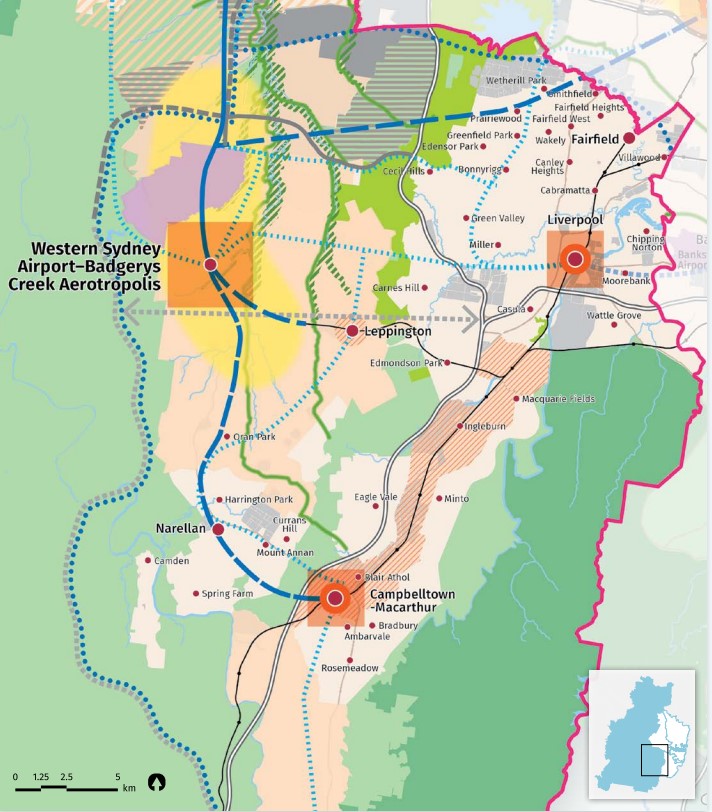 Western City District Plan
The population growth in the Western City District will be 464,450 by 2036, which is expected to require a housing growth of 184,500 dwellings (25%). The integration of new land use, transport and infrastructure is supported by the Future Transport Strategy 2056 and State Infrastructure Strategy 2018–2038 across the region. The new Western City District Structure Plan illustrates the loction for the future urban growth
Suburb Summary
Suburb

Cobbitty

City / State

Camden Council, New South Wales

Suburb Area

5,216.4ha

Boundary

North – Bringelly Creek

East – Macquarie Grove Road and the Northern Road

West - Nepean River

South - Nepean River

Suburb inclusions

Camden Airport

2x University Campasus

2x education establishments

Parks

Childcare Centre
Rural Fire and Rescue Station
Local Sporting Clubs
Small stores
Supermarket

Community Amenity

Large rural and low-density residential areas
Local parks
Spots and recreational space

Location

Cobbitty, 60 kilometres south west of Sydney

Education

Macarthur Anglican School

Types of Residential

Housing choice and diversity to meet the needs of the community, through a mix of densities, types, designs, tenures and levels of affordability, to cater for a range of lifestyles, incomes and life cycle needs

Employment Areas

Universities, local centres, schools, health centre and sports

Infrastructure

Roads

Transportation

Local road network

Recreation Areas

3x local parks

Cricket Club

Environment

Dam covered area

Numerous creek corridors

Settlement Pattern

Historic, Denbigh, Bangor and Cluny Hill Homesteads - Cobbitty, NSW State Heritage Area
References
Oran Park – Development Control Plan

Google Streetview and Aerial
---
Land Release Applications for Oxley Ridge Estate - Cobbitty
Land release
Land report
Number of lots
Plan number
Land surveyor
Lodged date
Intended use
Settlement tracking
No updates found
---
Reviews & Comments on Oxley Ridge Estate - Cobbitty
---
Estate Brochure, Masterplan, Engineering Plan, Plan of Subdivision (POS), Design Guidelines
---
FAQs about Oxley Ridge Estate - Cobbitty
Who is the developer behind Oxley Ridge Estate - Cobbitty?
How many homes does Oxley Ridge Estate - Cobbitty consist of?
There will be 4,500 new homes in Oxley Ridge Estate - Cobbitty.
What's the total area size for Oxley Ridge Estate - Cobbitty?
Oxley Ridge Estate - Cobbitty has 345.20 hectares total area size.
Which city council does Oxley Ridge Estate - Cobbitty fall under?
Camden Council is the local government area for Oxley Ridge Estate - Cobbitty.
Who is the project marketer for Oxley Ridge Estate - Cobbitty?
Which schools near Oxley Ridge Estate - Cobbitty?
Below are the nearby schools for Oxley Ridge Estate - Cobbitty:
Oran Park Public School - 1.5km south-east
Oran Park Anglican College - 2.4km south-east
Macarthur Anglican School - 2.8km south
Oran Park High School - 2.8km south-east
Barramurra Public School - 3.8km south-east
St Justin's Catholic Primary School - 4.1km south-east